Have a Mish Mash Of Old Family 8mm Film? Slides? Video Tapes?
ALPHA DVD TO THE RESCUE! 
Easy & Affordable Transfers of Your Precious Family Memories
Alpha DVD Creations has been in the 8mm and VHS to DVD business since 2007 delivering quality video and film transfer service to the greater Atlanta Metro area.
Got 8mm or Super8 film? We got you covered!
Using the same specialized equipment as major movie studios like Universal, we can transfer, clean and digitize your 8mm or Super8 film, preserving your memories for generations to come!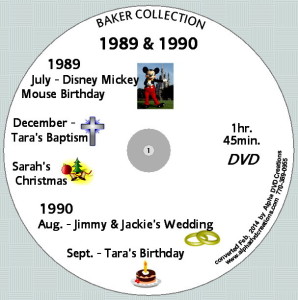 In addition to created custom menus for your DVD, we create custom DVD covers as well using High Quality Printable Disk.
This makes navigating to a specific scene quick and easy!
Special 100 year Archival Gold/Silver or Platinum DVDs available!
Personal Attention to Detail- second to none!
Our Standard operating procedures for converting  videos, film, slides and photos to a DVD:
Video formats – VHS, VHS-C, Digital 8, Hi-8, Mini DVD & Beta.

Organize – Acquire Correct name and dates of events,  correct spelling of all names

Edit – remove TV shows if any, poor or excess video, Customer determined.

Create Menu Page for easy navigation to any key event.

Create custom DVD cover with accurate content list of all events.
For 8mm and Super 8mm film in addition to above:
Clean All Film
Digitize using state of the art frame by frame capture equipment and software to assure highest quality transfer.
Edit, add titles. add music if desired.
We can also organize and  transfer your slides and photos to DVD.
Our special event group can create a memorable presentation to commemorate any special occasion: Graduation, Retirement, Weddings, 25th & 50th. Anniversaries, Special Birthdays etc. using  photos and video clips.    Can add audio clips as well.
Alpha DVD Creations has always archived a copy of all the DVDs we have produced at no charge to our customers.  Copies easily  available.
LIMITED TIME OFFER: 10 VHS to DVD Transfers $99
Don't Wait! Transfer your videotapes to DVD Today! Additional videotape formats add $5.00. Includes up to 2hrs of video on each tape. Not to be combined with any other offers or coupons. 
PLEASE NOTE: This service is only for straight transfers, does not include editing, menu page or custom DVD covers
Videos and film degrade over time, watch precious memories you would hate to lose!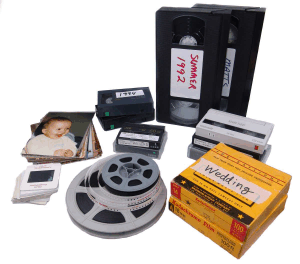 See Who's Using Our Service
Converting, Archiving, and Duplicating Media to DVD
"So very pleased with the entire process. Tom & Carol kept me in the know through each step. The DVD's are just priceless. Can't thank them enough for taking such good care of precious memories from the past." – Customer in Alpharetta, GA
You did a great job. I love how they are titled and organized and I watched 2 of them last night with fond memories! My Dad has 13 more tapes that I will be getting to you in time. Thanks again!
Tom and Carol, We are thrilled with the DVDs. Thank you so much for the timely response! We are no going to gather out Ossippi Lake Pictures. We love the cover and the DVD Design. Thank you Carol!- Andy and Donna
Hi Tom and Carol! Thanks for sending the DVDs. I am still enjoying watching them! They are precious to me and worth the time and cost to make them! – Charmaign
Great Job Tom! Hope to have more work for you soon! – Mr. Barry O.
We wanted to say thank for the effort and time invested in the DVDs. Job Well Done! The Presentation was enjoyed by all. Thanks again! -The Arman Family Reunion Committee
I'm so glad I have Alpha DVD to copy my precious VHS tapes to DVD! You did a fantastic job for us last time. – kleblanc
Excellent customer service & very personalized service! Home movies turned out great with an index to locate each memory on the DVD. – bdickinson